JOIN OUR DISPENSARY IN SUPPORTING
THIS OCTOBER
High Profile is "BUDDING HOPE" this year by raising funds for our charity partner, National Breast Cancer Foundation, through our register round-up. Round up your total at checkout and receive a 2023 limited-edition sticker.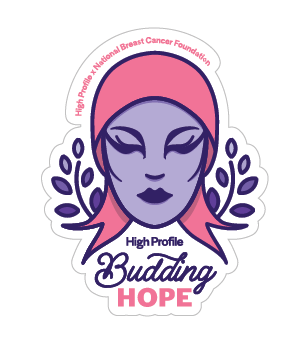 National Breast Cancer Foundation was founded in 1991 by breast cancer survivor, Janelle Hail. She was diagnosed with breast cancer in 1980 at the age of 34. At the time of her diagnosis, there was little information about the disease, and she was forced to make a decision about her health with few options. After her treatment, Janelle made a commitment to help women around the world by educating them about breast cancer and the importance of early detection.
NBCF's mission is to help women by providing help and inspiring hope to those affected by breast cancer through early detection, education and support services.
1 in 8 women will be diagnosed with breast cancer in her lifetime. There is currently no known cure for breast cancer, and its early diagnosis is critical to survival.
Visit nationalbreastcancer.org for more information.